PRINCIPAL
Mrs. Anita Vinodkumar
Each student is a unique individual with different needs and the purpose of education is the holistic development of students through a balanced curriculum of academics and arts, clubs and activities, sports and community service.
At NHVPS, we strive to maintain and build a supportive and collaborative spirit that helps in nurturing each child's potential. It is our belief that "given the right kind of environment, every child will grow into a disciplined and responsible citizen with the zeal to contribute to the welfare of our society." This will certainly be possible when we-students, parents and teachers- build on the traditions of the past and meet the challenges of the future.
Our extremely committed faculty and staff work together to create a safe environment that nurtures caring, capable, creative and ethical individuals "who will live in harmony with all existence."
We take pride in our association with you, dear parents, and we value your involvement, support and participation in the well-being of our students.
By encouraging our students to think independently, to be passionate about what they wish to do, to value excellence and to be lifelong learners we are sure of achieving our vision, 'The ideal student'.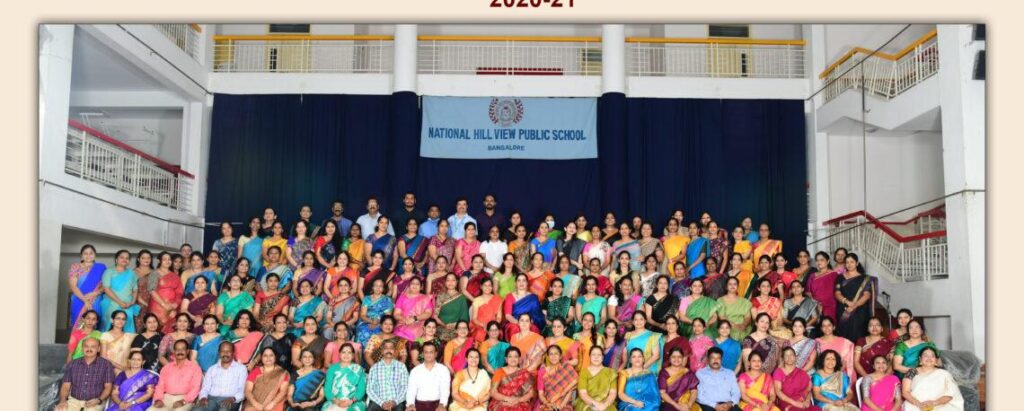 Our faculty comprises carefully selected experienced teachers who in the context of a true educational institution are facilitators in the process of learning at every level. It is the earnest endeavour of each member of our school faculty to impart quality education through the globally effective teaching methodology of LEARNING BY DOING, singly and in groups ,thus equipping the students in their care, to face challenges at university level and carve a niche in society as responsible individuals.

The faculty believes that Learning is to know and that Education is to feel and respond.
We, the entire staff of National Hill View Public School will strive to provide a safe, caring and orderly environment, where all the students will have optimum opportunity for growth in all areas: Academic, Emotional, Social, Physical and Moral.
We are firm in our commitment to enhance the self-esteem of each student. We will seek to create a feeling of responsible partnership between home, community and the school in order to provide the best educational atmosphere.
As a teacher I seek to become an empowered learner, as, WHEN EMPOWERED
I will respect myself
I will be responsible for all my actions
I will respect others
I will do my best
I can learn
I will learn
I will never give up